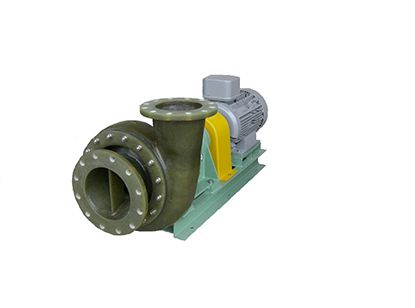 <Features>
Wide application range

Various sizes are provided as standard from small size 25A to large size 200A diameter so that faster and economical installation can be preformed without newly designing for each requirement.

Excellent corrosion-resistant structure and durability

Main parts of Pump touching corrosive liquid are made of FRP, and there is almost no trouble with corrosion

Excellent heat risistant, weather resistant features

Excellent heat risistant feature has already been proved, having been used for bath with temperatures up to 85℃ in various field. In addition, there is very small possibility of crack by UV and Oxygen such as those are occurred in PVC.

Light weight and rigid

FRP's specific gravity is only 20 percent of that of iron, and mechanical strength is equal to iron. Durable for hard working in a long term.

Strong against electrolytic corrosion

Having higher electrical insulation characteristics, it is free from electrolytic corrosion and there is no worry about contamination by the dissolution of rust or metal ion.

Standardization

Each series is standardized, so that replacement parts are supplied immediately

Abundant experience

With many years of experience and lots of results, we can offer advice on any kind of corrosion problem.

Installation, operation and maintenance

Installation,operation and maintenance should be done in accordance with instruction book.
Description of the pump type and code
NOVALITE centrifugal pumps having excellent performance are as follows.

K

Pump maker (KOUKEN CO., LTD.)
S

Standard centrifugal pump
P

Pump
025

Discharge bore
1

Head level
0

Super low
1

Low
2

Medium
3

High
4

Super high
6

Super highest
G

Type of shaft seal part and material of rotating part

T

Material of standard part touching liquid
H

Hastelloy C
R

FRP
T

Titanium
S

SUS316
●The use material can be selected from various anti-corrosion materials besides standardized
    goods.
Sectional Drawing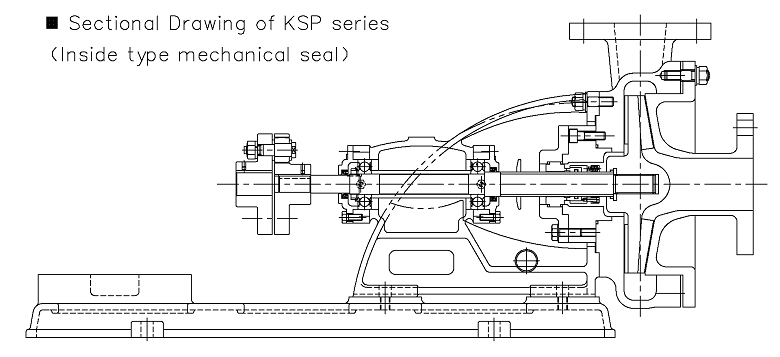 Standard specification
Kind of liquid:

Inorganic acids, Organic acids, Alkalies, Salts.




Structure      :Impeller……Open style


                     :Shaft seal type……Mechanical seal, packing seal                                                                                 :

Bearing……Shield ball bearing (Grease lubricant)

                                                                                                      Ball bearing

 (Oil lubricant)

Range of temperature :0~85 ℃ (depend on liquid)
Direction of rotation : Clockwise (viewed from motor side)
Flange standard : JIS 10kg/cm2 FF
Standard coating color : Metal part…Mansell 2.5G6/3

Motor : Totally-enclosed fan-coded type, 2Pole, 4Pole, 6Pole,                                                                             Standard type (Maker standard color)

Standard accessories : Common Base, Shaft joint, Foundation bolt