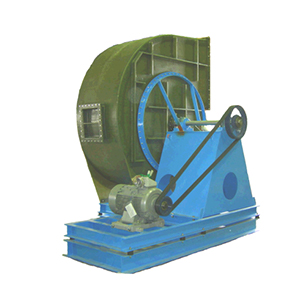 <Features of Turbo Fan>
Wide application range

Each series has a variety of standard models, making economical and easy installation available without the need to design each fan.

Hithly-efficient, low-noise airwheel type impeller  

Basically, FRP is, effective in decreasing noise due the fact that it absorbs high-frequency waves well. In addition, Fan with air wheel type lmpeller eliminates energy loss which causes gas bell and spiral vortex of gas. It is the most efficient, low-noise fan among centrifugal fans.

Excellent corrosion-resistant structure

Main parts of Fan contacting corrosive gas are made of FRP, and there is almost no trouble with corrosion.

Light-weight and rigid

FRP's specific garavity is only 20 percent that of iron, and mechanical strength is equal to iron. Durable for hard working in a long term.

Maintenance free

With conventional surface lining or coated fans, the occurrence of a pin hole will widen its corrosion area rapidly. Therefore, immediate repair is required. However, the NOVALITE TURBO FAN has almost no such problems. Also, there is no need to paint surfaces as there is very small chance of corrosion from the outside.

Excellent heat resistant, weather resistantant features

Excellent heat resistant feature has already been proved,having been used for gas with temperatures up to 80 C in various fields. In addition, there is very small possibility of crack by UV and Oxygen such as those are occurred in PVC.

Long-life ball bearing and motor

Impeller weight is 50 percent that of iron liner, and its small GD2 gives lighter load. Because of this, stable operation is expected.

Easy to install duct piping

6 discharge directions are prepared as standard for each model. This makes layout of the apparatus easy in any locatin. FRP Damper and Expansion Joint for accessories are also available.

Installation, operation and maintenance

Installation, operation and maintenance should be done in accordance with instruction book.
Description of the pump type and coded designations.
NOVALITE turbo fans are as follows.

K

FAN Maker (KOUKEN CO., LTD.)
T

Type
T

Low pressure turbo type
M

Medium pressure turbo type
B

High pressure turbo type
C

Sirocco type
F

Fan
B

Base type
A

Box bed with motor
B

Common base with motor
025

Discharge flange bore
1

Discharge side direction
1

Top vertical discharge clockwise type
2

Top vertical discharge counterclockwise type
3

Bottom horizontal discharge clockwise type
4

Bottom horizontal discharge counterclockwise type
5

Top horizontal discharge clockwise type
6

Bottom horizontal discharge counterclockwise type
S

Type of seal part
S

Standard seal
R

Standard labyrinth
V

Oil seal
G

Gland
M

Mechanical seal Outside type
C

Shaft material
C

S45C
P

S45C lining
M

SUS304
V

Drive type
V

Belt drive
C

Coupling
D

Motor directly connected
Sectional Drawing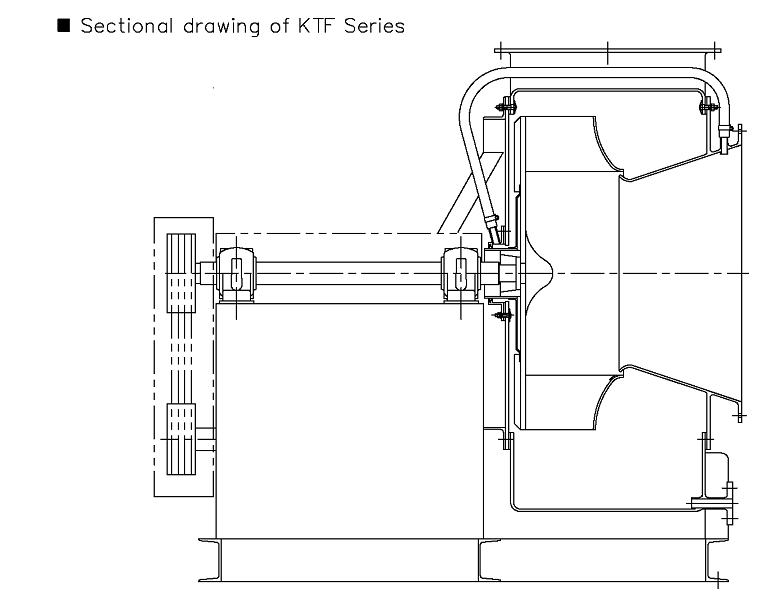 For inquiry, please furnish us with the following points.
 1. Kind , density, and element of Gass.
 2. Specific gravity of Gass
 3. Temperature of Gass (Rated value, the lowest value, the highest value)
 4. Static pressure(Rated value, minimum value, and maximum value)
 5. Specific gravity(Use situation, maximum value)
 6. Discharge and suction static pressure (Designed value, minimum value, maximum value)
 7. Driving method (V belt, direct coupling, coupling)